You can get a small widget from FlagCounter that could be added to website like a
blog
, and it can be used for singel webpage.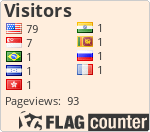 FlagCounter is customizable, you can change the flag number, colums of flags, title and color to show.
Just go to
FlagCounter.com
, customize the way you like and get the code to put on your sites. It's free and you don't need to sign up!
Notice
: Once you use the widget on your site, you can also view the detail date by click it.