Many people like set password for the computer so that the appropriate privacy is protected.
But if the password is too cumbersome, easy to forget, how to do? In that way, a helpful software is needed for you.
Not all
computer support fingerprint password, but every one can afford a webcam. Yes, I'm going to tell you how to login to windows just with your face!
Luxand Blink! is such a software,
this
free
software adds an extra level of
security
to your computer through your Webcam, associating your face with your username and password so you can start using by simply looking at it!
After the
installation of Luxand Blink! , it will start itself with windows, the next time your boot the computer, it'll take over the login screen, camera is opened directly waiting for your face! At the same time, you can login with your password.
How to start



Download and install it

After installation,

Luxand Blink! will

run a wizard to

ask you to record a face template

Then you can

lock the computer

and test it!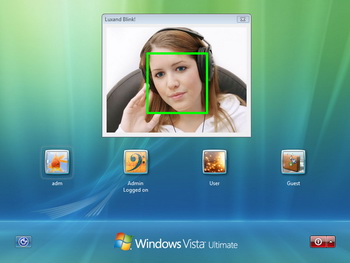 After severl days test, I think it's a really cool software, still I met a problem - sometimes it failed to start up. Whatever, don't miss it!
Downloads
|
Official website